Deployment Service
The Wiki of Unify contains information on clients and devices, communications systems and unified communications. - Unify GmbH & Co. KG is a Trademark Licensee of Siemens AG.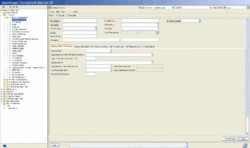 The Deployment Service (DLS) is a HiPath Management application for administering the following IP Devices (both SIP and HFA) in HiPath and non-HiPath networks:
Most important DLS features
Inventory management: The DLS is the central inventory data manager for IP Devices. Inventory data describes the hardware configuration and capacity of the IP Phones and includes information on items, such as, add-on devices or adapters available.
Configuration management: DLS is a user-friendly tool to read and modify configuration of IP Devices. Changes can be done on individual IP Devices, as well as on groups of IP Devices using DLS table view and bulk change feature.
Software deployment: DLS allows easy SW upgrade of IP Phones to a specific version or the latest SW version available.
Plug&Play function: The DLS supports Plug&Play.
User Mobility for IP phones (only released for HiPath 8000 solutions and pure SIP environment): DLS is a tool that supports the user mobility feature on IP phones and provides the configuration and administration of Mobile Users. You can use these options to migrate existing (not mobility-enabled) IP Phones and implement mobile user standards.

The DLS is designed as a client/server application. The client (DLS-GUI: Graphical User Interface) is written in Java and requires MS Internet Explorer as browser and JRE as Java runtime engine.
The server is also written in Java. Two DLS server variants are available:
DLS as standalone installation on MS Windows 2003 or XP
DLS installed on-oboard on a HiPath 8000 platform. (DLS is delivered with HiPath 8000 Assistant DVD.)
In addition to standard DLS-GUI based operation, most DLS functions can also be operated by external applications over a web service interface, the DlsAPI.
Capacity Limits and Restrictions (based on currently released version DLS V1 R2)
Maximum number of SIP devices supported: 20000 (for details see scalability information in the release note)
Maximum number of DLS administrators logged on at one time: 5
Plug&Play functionality requires a DHCP/DNS infrastructure in the network, which has been configured for operation with the DLS.
You can only install one DLS per DHCP domain in the network.
The DLS user interface is available in German and English.
Documentation
Online Help / Administration Manual
DLS is shipped with a comprehensive context-sensitive online help. This documentation is also available as PDF file.
The most up-to-date version is always part of the latest DLS delivery.
On installation unit of DLS V1 (Windows variant), you find it at: program files\DeploymentService\doc
Latest version for download:
See also