Conference Unit
The Wiki of Unify contains information on clients and devices, communications systems and unified communications. - Unify GmbH & Co. KG is a Trademark Licensee of Siemens AG.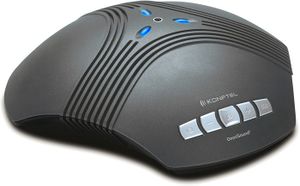 The connection of a OpenStage Conference Unit (external loudspeaker and microphone) called Konftel 60W (3rd party product that is HiPath Ready certified) is released for OpenStage.
Please see: https://partnerdialog.siemens-enterprise.com/hipathready/index.php?object=frontendPartner&partnerid=332&char=K&startcat=482&lang=en
Possible connection
The Konftel 60W is connected to the OpenStage phone via Bluetooth. After the normal pairing process the user has to configure the Konftel 60W as a conference unit (not headset) in the OpenStage menu.
The connection of the conference unit via the OpenStage headset interface, which will extend the usage also to an OpenStage 40. Konftel prepared a special cable for this (900103403: "Connection cable for 60W and Siemens OpenStage").
Release process
Released for OpenStage 60/80 T via Bluetooth starting with V1.R3.27 and via cable (headset jack) starting with V2.R0.20.0
Released for OpenStage 40 T via cable (headset jack) starting with V1.R0.26.0
Released for OpenStage 60/80 via Bluetooth starting with V1R3.24.0 and via cable (headset jack) starting with V2R0.35.0
Released for OpenStage 40 via cable (headset jack) starting with V2R0.35.0
Released for OpenStage 60/80 via Bluetooth starting with V2R0.16.0 or higher