OpenScape Office LX Demo Software
The Wiki of Unify contains information on clients and devices, communications systems and unified communications. - Unify GmbH & Co. KG is a Trademark Licensee of Siemens AG.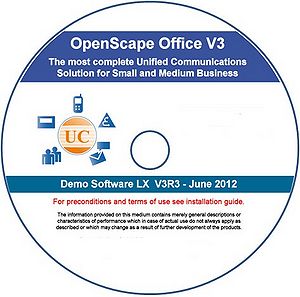 A Demo LX image is available from Partner Portal at Support / Software Download. The demo image runs as virtual machine on a Windows PC. It delivers a fully functional system with three permanent user licenses and licenses for myPortal, myAttendant and myAgent. Together with two OpenStage phones live UCC communications can be demonstrated, e.g.:
myPortal for Outlook and myPortal for Desktop – managing daily communication from a single and familiar PC user interface.

myPortal for Mobile and Tablet – show the web-based and browser independent User Interface. Access to the most important UC features from everywhere.

myAttendant – have the perfect overview and always know who is available or not.

myAgent and integrated Contact Center – show how "state of the art" call routing helps improving your customer service.

Presence Management and Favorite Bar – always know, if your colleagues and team members are available, get status based personal announcements.

Drag & Drop Conferencing – just start an "ad hoc" or "scheduled" conference by a mouse click.

Visible Voicemail and Fax – listen to the most important Voicemail or Fax message first.
Many more cost saving and valuable feature highlights like the different call pop ups, call forwarding targets per presence status, rule engine, caller list with open calls, scheduled calls ...
The demo can be used to get familiar with OpenScape Office as well as for customer presentations.

  How to set up OpenScape Office LX Demo (overview)


  Installation Guide OpenScape Office LX Demo (also available in German and French at SEBA Software Download)
Please make sure to meet the preconditions and follow the installation steps as described in the installation guide e. g.
Disconnect the PC from all other networks, because the Demo LX sets up its own IP network with DHCP
Connect a powered phone or stand-alone switch to the PC LAN interface to enable access to the virtual OpenScape Office LX