OpenScape Office LX/MX
The Wiki of Unify contains information on clients and devices, communications systems and unified communications. - Unify GmbH & Co. KG is a Trademark Licensee of Siemens AG.
Please note: OpenScape Office has reached the end of service and software support. Please consult your UNIFY Sales Partner for migration/upgrade pathes to our successor solution OpenScape Business.
UC, it's as easy as 1-2-3
Choose the UC Solution that's right for your business.
1 - Lead with UC and OpenScape Office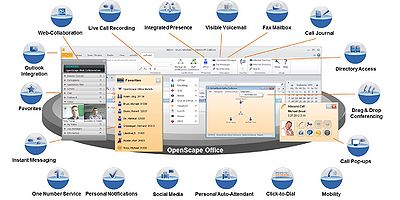 Unified Communications expands the possibilities for your business to become more productive and keep customers satisfied, all while reducing costs. OpenScape Office delivers Unified Communications to your business in the most comprehensive, easy-to-use, secure, and reliable solution on the market.
UC-enable MS Outlook - call, conference, or find your contacts in just a few clicks directly from Outlook
Communicate just as easily from your PC, desk, or mobile phone
Control how you are contacted whenever and wherever you want
Stay in touch from wherever you are!
The amazing capabilities of OpenScape Office are available across our award-winning SMB communications platforms, so you can choose the option that best suits the size and scope of your business.

2 - Pick the Right Platform
OpenScape Office MX
OpenScape Office MX is an all-in-one Unified Communicationsplatform for up to 150 users. Designed to work with modern IP networks, it combines unifiedcommunications software, PBX software and PSTN connectivity in a single package that's easy to use, administer and maintain.
OpenScape Office LX
OpenScape Office LX is an all-in-one software based Unified Communications solution for up to 500 users. Designed to run on a single server, it combines unified communications software, PBX software and virtualization capabilities all within one package that's easy to use, administer and maintain.
3 - Add Devices and Clients
Unify offers a full range of next-generation devices and clients to complete the user's UC experience. Designed with ease-of-use in mind, they all offer intuitive interfaces, high-quality voice, an industry-leading feature set and seamless interoperability that provide users with consistently excellent communications from anywhere and any device. There's a phone to suit the needs of any worker; from entry level to executive-level desk phones, cordless phones, mobile /smart-phone clients, and a soft client that adds phone capabilities to laptop computers for workers on the go.
Broad Range of Clients
Choose the ideal OpenScape Office clients to further improve efficiency and customer service.
Unified Communications Clients
presents the full suite of OpenScape Office UC features from a single window
on the user's PC desktop (place, receive, route, log and record phone calls)
maintain buddy lists and send instant messages
manages and shows the presence of all other users on the system
integrates directly with the user's MS Outlook calendar and user directory
all of the functionality in myPortal for Desktop available as an MS Outlook toolbar!
enables users to access all of their communications - voice, conferencing, voicemail, fax, IM, email, and contacts - directly from within MS Outlook
delivers OpenScape Office UC features onto your mobile web-enabled smart phone
independent of your current location
manages and shows presence status of contacts, set connection control of your office extension, and access to directories, favorites, voicemail and journals
select preferred calling procedure to utilize optimal voice calling rates
OpenScape Office UC presence and visible voicemail features to OpenStage 60/80 desktop phones
easy changes of OpenScape Office presence status
visually access, query and control personal voicemail-box

Specialized Clients
presents the full suite of contact center features from a single desktop view (call queue information, relevant customer information pop-ups accompany incoming calls, access customer data and call history)
allows for easy adjustment of queues or customer priorities
facilitates peer collaboration and call transfer to experts, expediting the resolution of customer issues
presence-aware switchboard application used by administrators, dispatchers or supervisor
presents a single, consolidated view of all of the company's users and their presence status, making it easy to transfer calls to employees when they are available
UCC Networking – Enabling the Extended UC Domain
Many companies are operating out of multiple locations and offices on a single campus, or distributed in national or international environments. Site expansions are also typical as small and medium sized businesses grow and need more space.
The need to communicate and collaborate as one entity is especially critical for smaller companies trying to compete with large enterprises.
OpenScape Office uniquely simplifies communication and collaboration allowing multi-site offices to operate as one system, by a single Extended UC Domain.
UCC Networking – Enabling the Extended UC Domain
Benefits include:
Always know the availability of your colleagues across office locations and the best way to reach them
Stay within reach of your colleagues and customers from any device and location
Leverage social media integration to extend your communications reach to partners via 3rd party IM
Managing one single UC domain vs. multiple redundant standalone deployments
Virtualization
Virtualization enables companies to improve the efficiency and availability of IT resources and applications by eliminating the old "one server, one application" model. Virtualization is a way to abstract SW applications and their underlying components away from the physical server hardware.
Small to medium size businesses often place even greater emphasis on cost savings and on protecting business critical systems and data, since IT staff and budgets are shrinking.
The pure software design of OpenScape Office enables businesses to virtualize their Unified Communications and Collaboration solution. Benefits include:
Reduction of physical servers to reduce hardware costs
Easy data backup and restore
Enhanced availability and reliability
Improved scalability and monitoring
Green IT (One server = less energy consumption)
Reduced service hours
New Features in Detail
OpenScape Office User Enhancements
Customizable and enhanced myPortal for Desktop client
Desktop Dialer, as in myPortal for Outlook
A marked destination number can be dialed directly from many Windows applications with a key and mouse button combination, for example, from an editor, a web interface or an Outlook e-mail.
Customization of the user interface
The Favorites List and the Journal, Voicemail, Fax Messages and Directories tabs can each be placed in a separate window on the desktop. 
Instant Messaging with Multi User Chat and external connectivity
Instant messages can be exchanged (chat) with internal subscribers and an external communication partner (via the XMPP protocol) using drag & drop functionality
Multi-user chats using drag & drop
Multiple internal subscribers can exchange instant messages with one another.
Multi-user chats with an external partner using drag & drop
Multiple internal subscribers can exchange instant messages with one another and also include a maximum of one external communication partner in the chat session (via the XMPP protocol).
Optimized interface for setting up personal user data
User settings centrally managed with Service/Admin access.
New user profile templates and default settings, definable by the administrator
New security concept with 6-digit passwords for clients and voicemail.
New Fax Features
T.38-Fax
Faxes can be set via the SIP Central Office.
Merge Fax
Multiple fax addresses can be stored in the Fax Printer, and a fax can then be effectively sent to them concurrently, e.g., from Word.
Improved Open SIP Architecture – Support of additional features for SIP subscribers
Unified Communications for standard SIP devices
SIP devices supporting 3PCC (RFC 3725) can be controlled from the OpenScape Office application.
Displaying caller names
OpenScape Office system names are displayed during or connections.
Blind transfer (also called an unscreened transfer
This standard SIP transfer mode will be supported now.
Call forwarding<span id="fck_dom_range_temp_1301919464271_416" />
The standard device based call forwarding will be supported now.
Message Waiting Indication (MWI)
The standard SIP MWI notification will be supported now e.g. signaling of new voice messages.
Distinctive Ringing
Different call types will cause different ring tones e.g. internal calls; external call; recalls.
Mobility Enhancements
myPortal for Mobile/Tablet
myPortal for Mobile is optimized for presentation on Apple's iPhone and can also be used with several other telephones. Depending on which device and operating system is used, the ease of use or function may be affected. The following requirements apply:
Touch screen (recommended for ease of use)
Display resolution of at least 240 * 320 pixels
Internet Access
Web browser with JavaScript enabled
Support for the simultaneous transmission of voice and data through mobile phones and the mobile network
3G data connection, for example, EDGE, UMTS, HSDPA (recommended for smooth service). GPRS can lead to slow page rendering.
Flat rate data plan (recommended for cost reasons), since data volumes of several 100 MB per month may be involved, depending on usage.
The following features are available with myPortal for Mobile:
Presence Status
Directories
Favorites
Manual dialing / Redialing
Voicemail
Journal
Prerequisites for using myPortal for Mobile: Comfort Plus User License
Mobile networks: In order to use myPortal for Mobile, it is essential that data and voice communications be operated in parallel.To operate myPortal for Mobile, the combination of EGPRS/EDGE, UMTS and HSPDA can be used without restrictions. GPRS can only be recommended, provided the mobile phone supports GPRS class A. The GSM/CSD network cannot be used.
myPortal for OpenStage
myPortal for OpenStage is the OpenScape Office XML application for OpenStage 60 and 80 users to provide access to:
Presence status
Users can change their presence right from the OpenStage User interface.
Visual Voicemail
Users can visually access and manage their voicemail and listen to the most important messages first, for example.
myPortal for OpenStage is already included in the User license.
No additional applications need to be installed on the OpenStage telephone.
Networking
Application Scenario – Campus
Examples of deployment on a campus / company premises:
• Small Startup Company with two offices in a business park
• Small college campus or school
• Existing medical clinic that is expanding the practice and needs another building
Application Scenario – Regional / National
Examples of deployment on a campus / company premises:
Travel Agency with offices in different cities across local country / region
Car dealer who is expanding his business with a new branch in the same city
Truck company who opens up a new branch in a different city
Application Scenario – International
Examples for international deployment:
A global acting Service company who has different Partners around the world who provide the local on-site services
A sports factory in USA with an outsourced manufactory in Asia
Holding with different companies around the globe
Application Scenario – HiPath 3000 as Gateway
Examples of deployment with H3K V8 voice networking:
A transport company with a big demand of existing analog devices and faxes
A factory where parts of the IT Infrastructure are VoIP-ready
A company using their existing HiPath 3000 V8 as a single gateway and expand /modify their business
Instant Messaging and Presence Scenarios
The Extensible Messaging and Presence Protocol XMPP is an Internet standard for exchanging instant messages (chatting) and displaying the presence status of external communication partners.
Serviceability Improvements
Centralized management of OpenScape Office MX and OpenScape Office LX in networks
Administrators can access all stations in the network via the central node in order to change call numbers or user names, for example. The databases of the individual network nodes are synchronized automatically when changes are made.
New User Profile Templates and defaults to speed up installation
The administrator of the communication system can define profiles for myPortal for Desktop and myPortal for Outlook. Among other things, the desired settings for the visibility of station numbers, the color and language of the user interface, the automatic resetting of the presence status, the status-based call forwarding and the profile of the personal AutoAttendant can be defined.
New Telephone Profile Templates
The administrator of the communication system can create profiles for the stations of the communication system (i.e., the subscribers' phones) in which, among other things, the class of service, the activated and deactivated station flags, and membership in a call pickup group can de defined. The profiles facilitate the assignment of subscribers involved in the same areas of activity such as accepting orders, for example.
User Settings changeable centrally with Service/Admin Access
The administrator of the communication system can access the configuration settings of the clients and can thus also edit the customized personal settings of a user. This includes the profiles for the personal AutoAttendant, for example, the Notification Service for new messages as well as status- and rule-based call forwarding.
Virtual user interface for easy error tracking (Online User)
The Online User enables the remote control, verification and monitoring of OpenStage telephones via a Windows PC. The behavior of an OpenStage telephone is recreated via the Online User tool on the PC.
SSDP Ready
Smart Service Delivery Platform for secure remote access from manufacturers. The option of entering the partner ID for the use of SSDP is prepared in the partner environment (as soon as the SSDP server for the partners has been shared).
Connectable Phones, Devices and Infrastructure Components
IP phones (HFA)
OpenStage 15, OpenStage 20 E, OpenStage 20, OpenStage 20 G, OpenStage 40, OpenStage 40 G, OpenStage 60, OpenStage 60 G, OpenStage 80, OpenStage 80 G
optiPoint 410 entry, optiPoint 410 economy, optiPoint 410 economy plus, optiPoint 410 standard, optiPoint 410 advance
Key modules
WLAN Phones
optiPoint WL2 professional and AP 2630, AP 2640 or HiPath Wireless Convergence Software.
HiPath Cordless IP
Gigaset professional|Gigaset SL3 professional
Gigaset professional|Gigaset M2 professional
Gigaset professional|Gigaset S3 professional
PC clients (HFA)
OpenScape Personal Edition
optiClient 130
SIP phones/IP adapter
AP 1120 S (for connecting 2 analog phones or Fax devices)
Mediatrix 4102S
Released features and configuration hints for SIP devices can be found at SIP devices configuration.
Add-on devices
Analog telephones
ISDN devices
Entrance telephone via ET-S adapter
Infrastructure components
Enterasys switches (of the A2, B3 and D2 series) with and without Power over Ethernet (PoE)
LAN switches from other vendors with or without Power over Ethernet (PoE)
Routers (e.g., DSL router, VPN router)
VPN Client (tested with Microsoft Standard Client and NCP Client)
UPS (uninterrupted power supply unit)
Documentation
Previous version
OpenScape Office MX|OpenScape Office V2
See also