optiPoint application module
The Wiki of Unify contains information on clients and devices, communications systems and unified communications. - Unify GmbH & Co. KG is a Trademark Licensee of Siemens AG.
The optiPoint application module is a powerful add-on module with colour touch screen and alphanumeric keyboard. The module can be connected to different phones of the optiPoint family.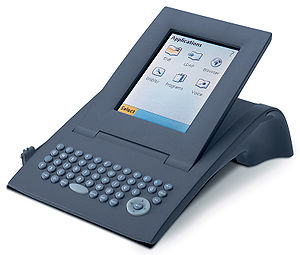 Compatibility
The optiPoint application module is compatible with the telephones:
optiPoint 500 basic, optiPoint 500 standard, optiPoint 500 advance
optiPoint 410 standard, optiPoint 410 advance
optiPoint 420 standard, optiPoint 420 advance
Applications
ENB
LDAP
WAP Browser
The browser application provides access to WAP content in the internet and the company intranet.
How to use the WAP browser
How to use XML applications for the WAP browser
Display configuration
JAVA programs
How to use JAVA programs
How to program JAVA midlets with the optiPoint 410 SDK
Voice dialling