Difference between revisions of "myPortal for Mobile"
The Wiki of Unify contains information on clients and devices, communications systems and unified communications. - Unify GmbH & Co. KG is a Trademark Licensee of Siemens AG.
Line 3:
Line 3:
 

</div>

 

</div>

 

[[Image:OSOff-Mobil-Screen.png|thumb|250px|myPortal for Mobile screenshot]]

 

[[Image:OSOff-Mobil-Screen.png|thumb|250px|myPortal for Mobile screenshot]]

−

 
−

 
 
 
 

myPortal for Mobile ist die für Mobiltelefone optimierte, webbasierte Lösung für Unified-Communications-Funktionen von OpenScape Office V3 LX/MX. Neben komfortablen Wahlhilfen über Verzeichnisse und Informationen über den Anwesenheitsstatus anderer Teilnehmer, hat der Teilnehmer z. B. auch Zugriff auf Sprachnachrichten. Keywords: myPortal for Mobile bietet folgende Leistungsmerkmale:  

 

myPortal for Mobile ist die für Mobiltelefone optimierte, webbasierte Lösung für Unified-Communications-Funktionen von OpenScape Office V3 LX/MX. Neben komfortablen Wahlhilfen über Verzeichnisse und Informationen über den Anwesenheitsstatus anderer Teilnehmer, hat der Teilnehmer z. B. auch Zugriff auf Sprachnachrichten. Keywords: myPortal for Mobile bietet folgende Leistungsmerkmale:  

 
 
−

*Verzeichnisse

+

*

−

*Favoritenliste

+

*

−

*Journal  

+

* Journal

−

*Anwesenheitsstatus

+

*

−

*CallMe-Dienst

+

*

−

*Sprachnachrichten

+

*

 
 
 
 
−

Um myPortal for Mobile zu nutzen muss das Mobiltelefon eine geeignete Hardware- und Softwareausstattung haben. myPortal for Mobile ist optimiert für die Darstellung auf Apple iPhone und mit zahlreichen anderen Mobiltelefonen funktionsfähig.  

+

myPortal for Mobile for AppleiPhone .

 
 
−

Abhängig vom verwendeten Gerät und Betriebssystem können Bedienkomfort oder Funktion beeinflusst werden.  

+
 
+
 
+
 
+
 
+
 
+
 
+

.

 
 
−

Es gelten folgende Anforderungen:

 
 
 
−

*Touchscreen (empfohlen für komfortable Bedienung)

+
−

*Display-Auflösung mindestens 240 Pixel * 320 Pixel

+

*

−

*Internetzugang

+

*

−

*Webbrowser mit aktiviertem JavaScript

+

* -

−

*Unterstützung der gleichzeitigen Übertragung von Sprache und Daten durch Mobiltelefon und Mobilnetz

+

*

−

*3G-Datenverbindung, z. B. EDGE, UMTS, HSDPA (empfohlen für flüssige Bedienung). GPRS kann zu langsamem Seitenaufbau führen.

 
−

*Datenflatrate (empfohlen aus Kostengründen), da je nach Nutzungsverhalten Datenvolumen von mehreren 100 Mbyte pro Monat anfallen können.

 
 
 
−

Betriebssysteme und Referenzgeräte<br>• Apple iOS: iPhone 3GS, iPhone 4

 
 
 
−

• Android: HTC Desire

+

:

 
 
−

• Symbian: N97, C7-00

 
 
 
−

• Blackberry OS: Torch 9800

 
 
 
−

Support wird nur geleistet, wenn ein Problem mit einem Referenzgerät nachweisbar ist. <br>Anwendererfahrungen mit anderen Geräten, Browsern und Betriebssystemen siehe Experten-Wiki: http://wiki.siemens-enterprise.com/index.php/myPortal_entry_Web_Services_FAQ. <br>

+

Geräten, Browsern und Betriebssystemen siehe Experten-Wiki: http://wiki.siemens-enterprise.com/index.php/myPortal_entry_Web_Services_FAQ. <br>
---
Revision as of 09:25, 7 April 2011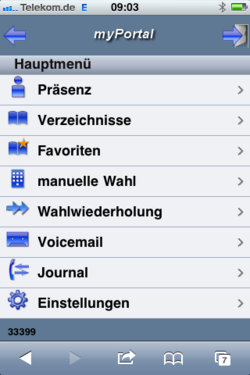 myPortal for Mobile ist die für Mobiltelefone optimierte, webbasierte Lösung für Unified-Communications-Funktionen von OpenScape Office V3 LX/MX. Neben komfortablen Wahlhilfen über Verzeichnisse und Informationen über den Anwesenheitsstatus anderer Teilnehmer, hat der Teilnehmer z. B. auch Zugriff auf Sprachnachrichten. Keywords: myPortal for Mobile bietet folgende Leistungsmerkmale:
Directories
Favorites
Journal
Presence Status
Manual dialing / Redialing
Voicemail

myPortal for Mobile is optimized for presentation on Apple's iPhone and can also be used with several other telephones. Depending on which device and operating system is used, the ease of use or function may be affected. The following requirements apply:
Touch screen (recommended for ease of use)
Display resolution of at least 240 * 320 pixels
Internet Access
Web browser with JavaScript enabled
Support for the simultaneous transmission of voice and data through mobile phones and the mobile network
3G data connection, for example, EDGE, UMTS, HSDPA (recommended for smooth service). GPRS can lead to slow page rendering.
Flat rate data plan (recommended for cost reasons), since data volumes of several 100 MB per month may be involved, depending on usage.

The tested devices are:
Apple iOS: iPhone 3 S, iPhone 4
Android: HTC Desire
Symbian: Nokia N97, C7-00
Blackberry OS: Storm 9500

User experience with additional devices, browsers and opreation system are described in the following link:
deren Geräten, Browsern und Betriebssystemen siehe Experten-Wiki: http://wiki.siemens-enterprise.com/index.php/myPortal_entry_Web_Services_FAQ.