Difference between revisions of "Headsets"
The Wiki of Unify contains information on clients and devices, communications systems and unified communications. - Unify GmbH & Co. KG is a Trademark Licensee of Siemens AG.
Line 33:
Line 33:
 

*Plantronics Entera (Binaural NC): Plantronics Entera Duo HW121N

 

*Plantronics Entera (Binaural NC): Plantronics Entera Duo HW121N

 
 
−

== DECT Headsets ==

+

== DECT ==

 
 
 

Following DECT headsets are supported by

 

Following DECT headsets are supported by
---
Revision as of 07:12, 26 March 2010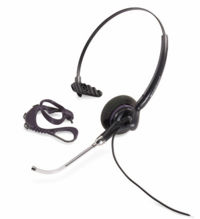 Please be informed that there are different categories of headsets: Corded, cordless (DECT or Bluetooth base station connects via cable to the phone) and "pure" Bluetooth devices. The best audio quality is provided when using corded headsets. Headset audio quality may be suffering when using other interfaces like DECT & Bluetooth.
Corded headsets are typically equipped with a 4-pin western plug. Cordless headsets, if they support the electronic hook switch functionality, do have an 8-pin western plug (to transport the signalling). The OpenStage socket supports both western plugs without any adapter, since the socket is hardware coded so that the 4-pin western plug does not rock around. This hardware coding also prevents, that someone plugs in a standard RJ45. Meaning, the headset 8-pin western plug is not a standard RJ45 (which could be a PoE powerd LAN cable).
Answering a call is simply done via the headset key. Neither an amplifier nor headset lifter are needed. Ask the headset supplier to get the right (adapter) cable for your headset which fits directly into the OpenStage headset socket.
The following headsets are recommended for use as an accessory with OpenStage 40, OpenStage 60 and OpenStage 80 phones.
More information on how to use Bluetooth see OpenStage Bluetooth.
How to use Bluetooth headsets with OpenStage phones see

  User Manual OpenStage 60-80 HFA HP3000-HP5000 on page 167.
Corded Headsets
Jabra by GN Netcom
GN Netcom profile monaural
GN Netcom profile binaural
Plantronics
Plantronics Encore (H91, H91N, H101, H101N)
Plantronics Encore for USA (P91, P91N, P101, P101N)
Plantronics Supra (H51, H51N, H61, H61N)
Plantronics Duoset (H141, H141N)
Plantronics Tristar (H81)
Plantronics SupraPlus Wideband (HW251N, HW261N)
Plantronics Encore Pro monaural (HW291N)
Plantronics Encore Pro binaural (HW301N)
Plantronics Entera (Binaural NC): Plantronics Entera Duo HW121N
Cordless Headsets (either DECT or Bluetooth based, using a base station for phone connection)
Following DECT headsets are supported by
OpenStage SIP phones starting with SW version V1R5
OpenStage HFA phones  : starting with SW version V1 R3.24.0
OpenStage TDM

OpenStage 60, 80 TDM : starting with SW version V1 R3.18.0
OpenStage 40 TDM: starting with SW version V1 R0.21.0
Jabra by GN Netcom
GN9356-607-401, Version A
Jabra PRO 9470 with base station (9470-26-904-101, Version A)
Plantronics
SAVI Office WO100
SAVI Office WO200
Bluetooth headsets
Please be aware that dependant from the headset manufacturer, the headsets may have varying switching times. The OpenStage Bluetooth interface supports the Headset Profile only and no Hands Free Profile. Additional headset specific features may not be supported. The Bluetooth headset audio quality may be impaired by other Bluetooth devices in vicinity.
Jabra by GN Netcom
BT620
BT8010
BT8040
GN6210-01
JX10
M5390
BT530 [1]
↑ After Switch ON the Headset, the reconnect must be initiated via the menue on the OpenStage phone.
Plantronics
Discovery 925
Discovery 665