OpenScape Desk Phone IP Release Notes
The Wiki of Unify contains information on clients and devices, communications systems and unified communications. - Unify GmbH & Co. KG is a Trademark Licensee of Siemens AG.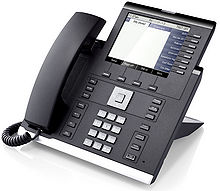 The OpenScape Desk Phone IP 35G and OpenScape Desk Phone IP 55G Release Notes help you to find, in descending order:
New implemented features
Corrected bugs
Known and still open issues (eventually with workarounds)
for each specific OpenScape Desk Phone IP phone software version considered.
Software versioning / naming
Software product versions will be identified using the following scheme:
V x[.y] R m.f.h
in which field:
x[.y] denotes the Major release level
m denotes the Minor release level
f denotes the Fix release level
h denotes the Hotfix level
This naming convention scheme does not imply any naming requirements for file / files available.

More informations on the New Software Versioning scheme wiki page.