How to enter SIP Provider Account Data
The Wiki of Unify contains information on clients and devices, communications systems and unified communications. - Unify GmbH & Co. KG is a Trademark Licensee of Siemens AG.
VoIP Providers use different denominations and formats for their VoIP accounts. The following table gives an overview about the correct matching to the OpenScape Office Web-based Management fields (WBM). Please feel free to extend this article according to your experience.
Example of the WBM mask for the preconfigured provider Sipgate: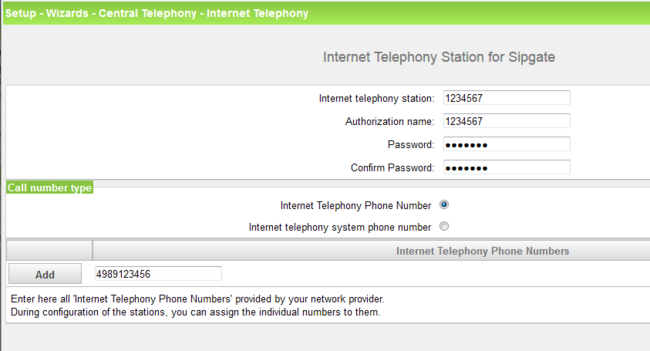 OpenScape Office WBM - [en]
Internet telehony station
Autorization name
Password
Internet Telephony Phone Numbers
OpenScape Office WBM - [de]
Internet-Telefonie-Teilnehmer
Autorisierungsname
Kennwort
Internet-Telefonie-Teilnehmerrufnummer
sipgate basic / plus
SIP-ID
SIP-ID
SIP-Passwort
Rufnummer (mit Landeskennziffer z.B. +498970071234)
sipgate trunking
SIP-ID
SIP-ID
SIP-Passwort
Rufnummer (mit Landeskennziffer z.B. +498970071234)
Vodafone (Arcor) Einzelanschluss
Sprach-Benutzername
ohne @arcor.de
Sprach-Benutzername
ohne @arcor.de
Sprach-Passwort
Rufnummer
Voipdiscount
Account name
Account name
Password
Display name/number
Skype Connect
SIP User
SIP User
Password
SIP User
<add info for new provider here>
Notes:
'Internet telehony station' must not include the domain name (@xyz.com)
For the majority of providers 'Autorization name' has to be the same as 'Internet telephony station'
For a description of all necessary administration steps see: Configuration Guide for Internet Telephony