HiPath TAPI 170 TSP
The Wiki of Unify contains information on clients and devices, communications systems and unified communications. - Unify GmbH & Co. KG is a Trademark Licensee of Siemens AG.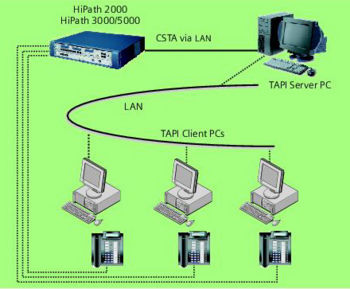 HiPath TAPI 170 is a Telephony Service Provider software, which enables Microsoft TAPI based software applications to control or monitor terminals connected to HiPath platforms.
Features
Third party TAPI service provider.
Full compatibility with the latest Microsoft TAPI 2.2/3.0 standard.
Designed to run on a Microsoft Windows 2000 / 2003 based network server.
Telephone functionality available on every client PC via the TAPI 2.2/3.0 client/server architecture.
No additional TSP client software required.
Support of CSTA III protocol.
Support of several physical interfaces.
Permanent interface monitoring for high service reliability.
Automatic garbage collection releases seized resources after time out.
Developer Guide for TAPI implementation available.
HiPath TAPI 170 is a 3rd party TAPI Service Provider.
Software versions
Latest Version (effective May 2010) is:
HiPath TAPI 170 V2 R1.63.0 (released 2010-04-22)
This Version is fully compatibel with all previous versions. Compatibility comprises also the reuse of licenses.
TAPI 170 general configuration
HiPath TAPI 170 is a server based third party TAPI service provider based on Microsoft´s remote TAPI concept. TAPI 170 is capable to monitor and control multiple devices via CSTA interface of the HiPath platform.
The CTI Link between the HiPath TAPI 170 Server PC and the HiPath platform is logically done by the CSTA III protocol. No physical connection is required between computer and phone. Hipath Platform and the HiPath TAPI 170 PC are connected to an Ethernet based LAN with TCP/IP protocol.
For connection of TAPI 170 (CTI Server) to a HiPpath 3000 platform the HG1500 module is required. HiPath 2000 platforms can be connected directly to LAN without any additional HW.
HiPath TAPI 170 can be operated either in combination with a single HiPath Platform (single node) or in combination with HiPath 5000 RSM in multi-node systems.
| TAPI 170 in single node environment | TAPI 170 in multi-node environment |
| --- | --- |
| | |
| In a single node, the CTI server PC where HiPath TAPI 170 TSP is installed communicates directly with a single HiPath platform, using Ethernet LAN and CSTA protocol. PC clients in a network with the TAPI applications are in the same domain as the CTI server with the HiPath TAPI 170 TSP, and access the TAPI server PC via Microsoft's remote TAPI functionality. | HiPath TAPI 170 TSP must be installed on a server PC with HiPath 5000 RSM for multi-node connection. HiPath TAPI 170 TSP communicates via Ethernet LAN and CSTA protocol with each individual HiPath platform in a multi-node environment. Station data for the HiPath platforms connected in the network is retrieved from the HiPath 5000 RSM database. If station data is changed in the network, HiPath TAPI 170 TSP is automatically notified of the change. PC clients with TAPI applications in the network must be located in the same domain as the HiPath 5000 RSM server with TAPI 170 TSP. They access this server PC via Microsoft's remote TAPI functionality. |
Prerequisites / Requirements
Platform/Phone Requirements
Supported systems
Supported phones
Not Supported phones
Standard H.323 phones
SIP Phones
PC Requirements
PC Hardware
In general the PC hardware equipment must meet the requirements of the Windows operating system. For each TAPI line configured 200 KB of additional RAM has to be provided.
TAPI 170 SW is not released for operation on virtual machines, even if one of the operating systems mentioned below are operated within the virtual machine.
PC Software
CTI server operating systems:
Microsoft Windows 2000 Server, (32-bit)
Microsoft Windows 2003 Server, (32-bit)
Microsoft Windows 2008 Server, (32-bit)
Microsoft Windows 2000 Terminal Server, (32-bit)
Microsoft Windows 2003 Terminal Server, (32-bit)
Microsoft Windows 2008 Terminal Server, (32-bit)
Citrix MetaFrame XP Feature Release 3 with SP3 (32-bit)
Citrix Terminal Server XEN APPS (32-bit)

Client PC operation systems:
Microsoft Windows 2000 Professional (32-bit)
Microsoft Windows XP Professional (32-bit)
Microsoft Windows Vista (32-bit) Home and Home Premium Edition are excluded
Microsoft Windows 7 (32-bit) Starter and Home Premium Edition are excluded
Capacities
HiPath platform
max. no of TAPI clients

HiPath 3800

HiPath 3500

HiPath 3300

HiPath 2000

HiPath 5000 CS

HiPath 5000 RSM

HiPath OpenOffice ME

OpenScape Office MX

250

130

60

200

250

1000 (system-wide)

250

250
The maximum value of TAPI clients per platform does not represent the max number of monitor point available within a HiPath platform.
Functional Boundary Conditions
Server PCs with multiple network interface cards or Load Balancing must not be used.
Only 32 bit operating systems are allowed.
Only Microsoft Windows clients are allowed.
All client PCs and the server must be members of one and the same domain.
LAN refer to the usage of Ethernet technology.
The physical connection to HiPath 3000 is allowed only via HG 1500.
The TAPI feature range depends on the underlying CSTA feature set
HiPath platform monitor points are not exclusively for HiPath TAPI 170, but are available for all connected applications.
Maximum numbers of monitor point depend on HiPath platform model
Use of Hipath TAPI 170 in connection with HiPath 5000 CS always requires a HiPath 3000 as gateway.
Terminal Server environment

Terminal Server / Metaframe Server and HiPath TAPI 170 V2.0 have to be installed on the same server HW so that every user can only monitor his/her own line.
In a Terminal Server Farm architecture, every server needs its own HiPath TAPI 170 V2.0.
Licensing has to be done on every server separately - every line needs a separate license.
The maximum number of HiPath TAPI 170 V2.0 instances is four.
Operation with HiPath 5000 RSM and networked HiPath 3000 is not allowed.
Documentation
Software Delivery
HiPath TAPI 170 software is shipped on a CD labelled "HiPath TAPI 120/ 170 V2 Service Provider" which is included in serveral order positions.
For service purposes the software can also be downloaded from the Software Supply Server of the manufacturer. software patches for dedicated problem corrections can be retrieved from the Knowledge Base within the Partner Portal (SEBA, login required) of the manufacturer (login required). Access to the two methods mentioned above is only granted by the manufacturer to registered partners on a contractual base.
Licensing
For HiPath TAPI 170 TSP, the number of useable TAPI lines is licensed. Licenses are linked to the MAC addresses on the first Ethernet LAN card on the PC where the HiPath TAPI 170 TSP is installed. In multinode scenarios in connection with HiPath 5000 RSM, the MAC address of the first HiPath node is used to license the TAPI lines.
Central License Server (CLS) of the HiPath License Management (HLM) is used to generate the appropiate license keys in a file. The license file generated by CLS is copied into HiPath TAPI 170 TSP using its configuration menue. Afterwards the licenses can be assigned to the TAPI lines. CLA and CLM components of HLM are not reqiured.
For testing purposes, HiPath TAPI 170 TSP can be operated without a license for two hours. To do this, enter the text "DEMOMODE" instead of a license key. Three freely configurable lines will be available for testing. The testing period can be reset by restarting the PC. You can switch from test version to full version at any time by entering the license key.
License conversion from HiPath TAPI 170 TSP V1.0 to V2.0
HiPath TAPI 170 TSP V1.0 can be upgraded to HiPath TAPI 170 V2.0 and expanded with HiPath TAPI V2.0 licenses. Licenses purchased under V1.0 must be converted to V2.0 (in the central license server) and the latest driver software must be installed. To perform the conversion, the MAC address is entered in the license server under HiPath TAPI 170 V1.0 / "Version conversion" and the corresponding dataset is located using the search function. Users activate "Convert to V2.0" in order to transfer the dataset found to the V2.0 licensing database (license server). After transfer, the dataset can no longer be edited using V1.0. In the following step, the user searches for the new license key under the "Licensing" item in HiPath TAPI 170 V2.0, using the unchanged MAC address. Opening "Upgrade license", HiPath TAPI 170 V2.0 expansion packets and HiPath TAPI 170 V1.0 licenses (which have been converted to HiPath TAPI 170 V2.0) can now be combined in one new overall license.
Backward compatibility
Functions of HiPath TAPI 170 V2.0 are fully backward compatible to previous version incl. the support of the license dongle of CTI TAPI 3P V2.0/V2.1. The compatibility does not apply for the support of "old" Microsoft operating systems.
Connection via RS232 and S0 interfaces
Connection via V.24 / S0 interfaces should only be done for existing systems, which are already connected using these interfaces. New systems may only be connected to the HiPath platforms via Ethernet LAN using TCP/IP.
The following applies to Eicon DIVA S0 cards still used in existing systems. DIVA 2.0/3.0 cards were only released in connection with TAPI 170 TSP. Drivers are still delivered on the TAPI 170 CD and can be run using:
Microsoft Windows NT and Windows 2000 for DIVA2.0
Microsoft Windows 2000 / XP for DIVA3.0
Microsoft Windows 2000 / XP (not 2003!) for DIVA Pro
Feature description in detail
HiPath TAPI 170 software provides in general the following features of the TAPI interface:
Outgoing connection setup, incoming call acceptance, call cleardown
Call status/caller ID display
Call logging
Call pickup (group), consultation hold, toggling, call transfer, conference
Speed transfer, call redirect, call hold
Tone dialing (DTMF) during call
Call charge information
Write to display
Set/query hookswitch status
Volume setting for handset, speaker and headset
Lamp mode setting
Dynamic line generation by the application
Call center features:

Query/set/cancel message waiting indicator
Query/set/cancel call forwarding and do not disturb
Additional information on forwarded/redirected/ transferred calls
Playback of music on hold (MOH) and recorded announcements (RCA)
Trunk and UCD monitoring
Call status timer
Unique caller ID (domain-wide)
Call data exchange between TAPI applications (domain wide)
Central call detail recording (CDR)
Support for ACD proxy request handler
Telephone data service (TDS)
Heartbeat/loopback
AMHOST
Deviations can occur if the underlying CSTA III Interface of the HiPath Platform does not support some features
Contribution
External Links